Paul T. Bennett
Contact:
pbennett@ramsaylaw.com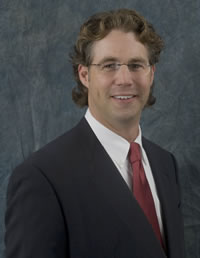 Paul T. Bennett joined the law firm as an associate in 2001 and became a partner in 2006.  He primarily practices in the areas of creditor's rights, commercial and general litigation, creditor bankruptcy, personal injury and family law.  He has represented clients ranging from large financial institutions and businesses to individual residents of Southeast Arkansas.  Paul represents both injured people and defendants in his personal injury practice providing him perspective that allows him to be a more effective advocate for you in your case.  Along with other members of the firm, he has handled large cases against some of the biggest banks and insurance companies in the country and defended businesses in multi-million dollar litigation.
Mr. Bennett has also been chosen by state and local leaders to serve in positions of trust, having been appointed by Governor Mike Beebe to serve on the Board of Trustees of Southeast Arkansas College, where he currently serves as Chair, as well as having been nominated to a position of Commissioner on the Pine Bluff Wastewater Utility Commission by the Mayor of the City of Pine Bluff.  He has also served several terms, including several as President, on the St. Joseph Catholic School Board in Pine Bluff.  Mr. Bennett encourages others to be active in our community, having served on campaigns for theUnited Way of Southeast Arkansas and membership drives for the Greater Pine Bluff Chamber of Commerce.  Mr. Bennett is a graduate of Leadership Pine Bluff and has served as an adjunct professor in the paralegal program at Southeast Arkansas College and as a special judge in Jefferson County District Court.
Mr. Bennett has also served as a leader in the Arkansas Bar Association, where he is currently serving his second term in the House of Delegates and he has previously served on the executive counsel of the Young Lawyers Section and chaired the Lawyers for Literacy Committee.  He is a member of the Jefferson County Bar Association, the Debtor/Creditor Bar of Central Arkansas, the Arkansas Trial Lawyers Association, the American Bar Association and the American Association for Justice.
Mr. Bennett graduated from Catholic High School for Boys in Little Rock, Arkansas in 1991 and earned a Bachelor of Business Administration in Finance in 1998 and a Juris Doctorate in 2001 from the University of Arkansas at Little Rock.  He is licensed to practice in all Arkansas State and Federal Courts and before United State Court of Appeals for the Eight Circuit.
Paul and his wife, Carrie live in Pine Bluff and have two children, Davis and Leighton.